EMERGENCY SERVICES OFFICERS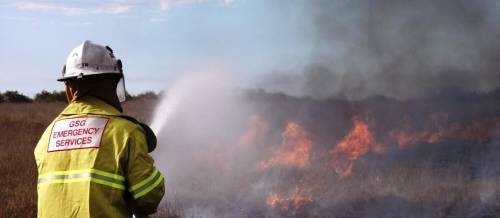 The GSG Emergency Services team consists of highly qualified and real world experienced emergency response personnel. 
In keeping with our real world experience, many of our staff have come from a career back ground in emergency response provision and are experts at safely managing workplace emergencies.
With our well-equipped fleet of emergency vehicles, GSG Emergency Services can supply all emergency response and rescue equipment and can be prioritised to mobilise to any emergency at short notice.
Standard qualifications of our Emergency Service Officers include:
Cert IV Healthcare (Ambulance);
Cert III Mine Emergency Response and Rescue;
Cert IV Training and Assessment;
Cert II Security Operations;
Respond to Isolated/Remote structure fire;
Wildfire Awareness/Control;
Emergency Response Driving;
MR or HR Motor Drivers Licence;
Alcohol & Other Drug(s) Testing.
GSG Training Services are a provider of onsite nationally recognised and client focussed customised training. This gives us the ability to maintain and up skill our own staff and also support the training of volunteer emergency response team members onsite.